Hey there :-)
A long time ago i announced two games here. Now i'm back with a third:

Click the banner to go to my projects page for the game.
Or click here for a direct download link
Direct Webstart links:
Play with OpenGL pipeline.
Play with the default pipeline.
The game has reached a stage where it should be playable on most systems and provide lots of fun, despite still being in development.
Quick game info overview:
Platform: Windows, Linux, Unix and Mac.
Players: 1
Gameplay: Top down shooter split into stages.
Controls: Custom, 4 directions and 1 mouse button.
Screenshots: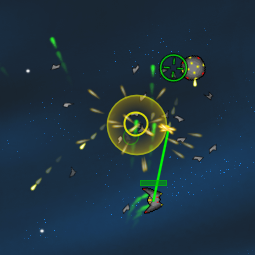 More screenshots
I have plans for more upgrades, stages, enemy types and powerups. But i'm always open to suggestions.
I'd like to hear what you felt about the game, if it worked properly and what kind of improvements you might suggest. Generally all feedback, critism and comments are most welcome :-)
- Scarzzurs