I realized that there are 3 kinds of cliffs in 3D tiled map: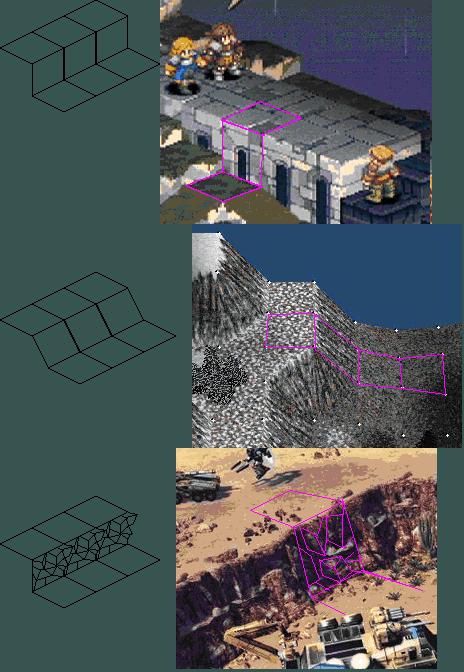 The first and the second are easy to figure out how to do. In the first, the 3D model is extruded(like Blender command). In the second, the original map matrix is not modified, only the position of the vertices.
I wonder how would be possible to make(storage in a file) the third one, since it is a complex polygon and it is even connected to the other tiles, wich are simple polygons.
There are two ideas I have in mind:1 -
Since the map file have the matrix of the map, the Game Engine would be responsible to create a map like the first one from the matrix, then, the game engine would put cliffs 3D models where it should be, overlapping the "ugly" 3D flat cliff.
2 -
Like the first idea, but the Game Engine would create 3D object models for each tile of the map, and put then side by side, giving sensation they are connected polygons.
The first idea looks "more professional". Do anybody knows other way to do this?
_________________
"Life finds a way." - Ian Malcolm
My WebBlog: PixelDeveloper
English is not my native language, so excuse me for any writing mistakes.