Hi everyone, I had an idea for a software tool that would be useful for making stories, or short text-based games.
Basically you would write a story and then the reader would be able to change the narrative to another character's point of view by clicking on their avatar or by pressing a hotkey. This would allow a reader to experience the thoughts of their favorite character, and would add variety and maybe even replay value to a well-told story.
The interface would look similar to a Japanese visual novels, and here's a gorgeous picture of how the program might look: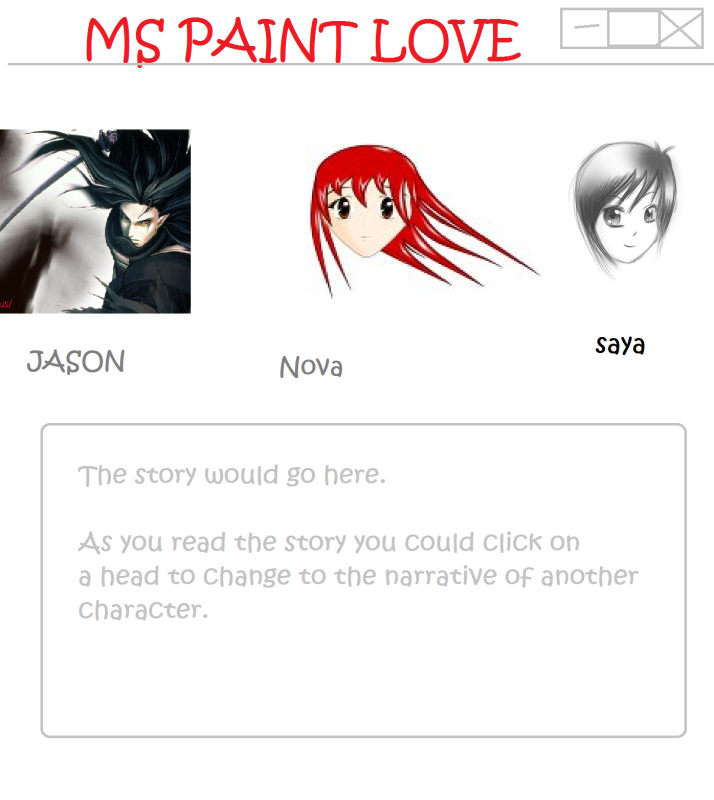 At anytime there would only be one textbox, however every sentence of each narrative would be cross-indexed against sentence of another character's point of view. This would create the illusion of "real time" in a story. That way if 3 characters were listening to a conversation, a mouse click would toggle between the points of view of multiple characters, without skipping parts of the story or having to reread.
Moreover in this framework, characters could be totally separate spatially and yet their interactions could affect each other. It'd be an amazing tool to let me create more interesting visual novel-esque stories, but I'm new to programming and don't know how to begin work.
I do know my desire: a fancy word editor for working with, and a scrollable textbox that could have its text replaced on the fly. (The textbox would need to be linked to the cross-indexed narratives taking place within the framework of the story.) I'm new to this and I'm really open to suggestions at this point, (and it doesn't even have to be related to programming either.)